Utsunomiya in the Showa era 1
In the Showa era, Utsunomiya started to make a full-scale city development, following the City Planning Act designated by the government.Main streets were paved, roadside trees were planted, and the current Tokyo-kaido Road was inaugurated. It is in those days that Hachiman-yama Park was made. At this time, the western-style buildings were also constructed one after another including Utsunomiya Chamber of Commerce, Matsugamine Catholic Church, and Utsunomiya St. John's Church, etc.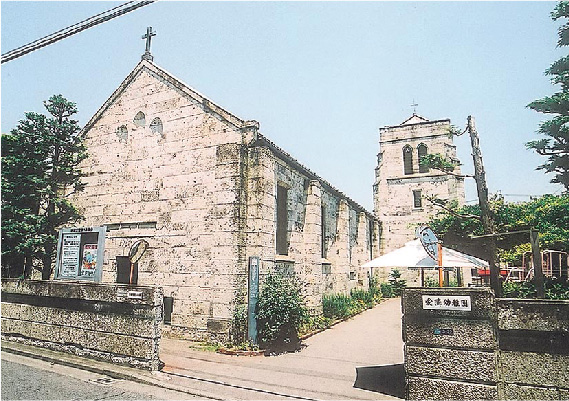 Utsunomiya St. John's Church On December 8, 1941, Japan plunged into the Pacific War.

Along with the country efforts being concentrated on a military production for war, the city switches to become a production city and invites many factories for military equipment, including Nakajima Aircraft Company Utsunomiya factory, etc.

Military facilities are successively built in Utsunomiya, too.
Utsunomiya in the Showa era 2
Air raids were repeated, targeting at the facilities in Utsunomiya until the end of the war.

With the bombing of Utsunomiya by the B-29 started on July 12, the most of the area between the current JR Utsunomiya Station and Tobu-Railway Utsunomiya Station was destroyed, causing a considerable damage to the city with a death toll of more than 620.

The citizen made every effort to advance reconstruction after the war.

With merging 9 villages in 1954 and 1 town and 1 village in 1955, the city limits expanded. The construction of the Hiraide industrial park was completed in 1966, and the Tohoku Expressway was inaugurated in 1972. With completion of the Kiyohara industrial park in 1976, the infrastructure development was advanced as "an industrial city".

The Tobiyama Castle Site ruins were designated as a national historical site in 1977, and the remains of Negoyadai Kofun that are a large-scale village in the Jomon period found by excavation, attracted a nationwide attention, which were also designated as a national historical site in 1988.
Utsunomiya in the Heisei era
It became a core city in 1996. Now the nation's largest-scale city meeting of Hyakunin-Isshu or traditional Japanese card game, is held every year. The city has developed businesses to promote various cultural events.

In 2007, Utsunomiya merged with Kamikawachi-machi and Kawachi-machi, causing the population to exceed 500,000 people, which made Utsunomiya become the largest city in the northern Kanto region. In 2011, Kita Kanto Expressway was inaugurated, linking 3 prefectures of Gunma – Tochigi – Ibaraki in the north Kanto.